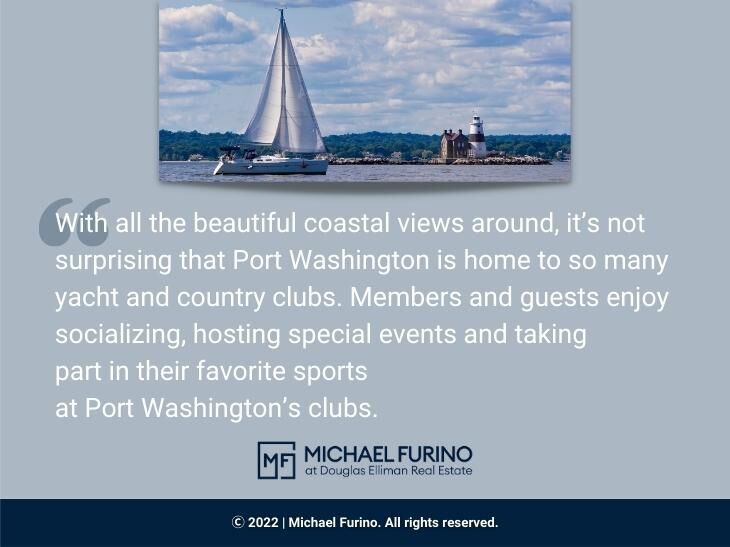 If you live in Long Island, you know how many yacht clubs and country clubs there are to choose from. Some of the best can be found in Port Washington and Glen Head, but you have many options throughout the entire area. If you're considering a move to the area, you might be pleasantly surprised. You'll have access to so many high-quality choices that it can be hard to pick one!
Port Washington is a community located on the Cow Neck Peninsula, on Long Island's northern shore. Port Washington is its own designated place, but it's also considered part of the town of North Hempstead, which belongs to Nassau County. This small hamlet is right on the waterfront. With all the beautiful coastal views around, it's not surprising that Port Washington is home to so many yacht and country clubs. Members and guests enjoy socializing, hosting special events and taking part in their favorite sports at Port Washington's clubs. But simply being outdoors at a club and taking in Port Washington's natural beauty is an experience by itself!
Are you looking for a new yacht club or country club in Port Washington? Maybe you're thinking of moving to the area, and you're wondering what your options are. Here are a few of my top picks to get your search started!

North Hempstead Country Club
The North Hempstead Country Club was established in 1916. It's located on Long Island's historic Gold Coast, an area that's renowned for its glamorous, decadent historical mansions built during the early twentieth century. The North Hempstead Country Club also maintains this aesthetic, and it's known for its sophisticated atmosphere.
The club's golf course was built by A.W. Tillinghast, a famous architect. It's impeccably maintained and bordered by picturesque trees. Besides golf, you can enjoy tennis courts, a pool, and a variety of children's programs.
There are also dining areas where you can enjoy elegant cuisine, whether you're hosting an event or just sharing a meal. You'll see a variety of social events on the calendar, and the club even offers a reduced membership rate for members under 40 years old. This is the perfect place to socialize, spend time with your family, or host a memorable wedding or party.
Port Washington Yacht Club
The Port Washington Yacht Club is an ideal place to create special moments with your family and friends. With spectacular views of Manhasset Bay, this club offers a top-notch waterfront dining experience. Lobster night is an especially popular club event! Even if you don't go out on a boat yourself, you can enjoy watching boats at sunset while you eat dinner. The club's yachting facilities are well-designed and spacious, so if you do want to go boating, your experience will be exceptional.
You can easily moor your yacht or smaller boat using the club's ample facilities. If you enjoy competition, you can participate in the club's racing events—including a "frostbite" event in the wintertime! There are plenty of programs for kids, including a junior sailing program. Adults can enjoy trapshooting in the wintertime, and it's a popular activity to share with kids, too. There's also a book club, tennis activities, a swim team, and more.

Sands Point Golf Club
Do you enjoy challenging hills on your golf course? If so, you might want to check out Sands Point Golf Club. This Port Washington country club has a rich history. The land was originally used for farming, but it was sold in 1918, and the golf course was partially built. Gradually, polo facilities were added, and the Sands Point Club was officially founded in 1927. Over the years, the club's focus shifted towards golf (and skeet shooting, for a while) and away from polo, badminton, and other sports.
Today, Sands Point Golf Club has a reputation as a place where camaraderie is built. Golfers from all walks of life form lasting friendships here, united by their love of the sport. The course is renowned for its visual appeal, clever architecture, and excellent playing surfaces.
North Shore Yacht Club
The North Shore Yacht Club has been around for over 150 years. It began as a canoe club, and today, it caters to visitors with or without their own boat to sail. The fleet specializes in sailboats but offers a variety of options, and club members come from diverse backgrounds and experience levels.
Whether you enjoy racing, cruising, or laser sailing, you'll find a wide variety of activities and programs at the North Shore Yacht Club. Guest moorings are available to help you conveniently store your boat, while members can moor long-term in a well-protected area. Guests also get full access to the shower and kitchen facilities, so they can fully enjoy their time at the club without membership. Dinner is often held on a terrace with a view of Manhasset Bay, and this is a popular spot for members to socialize and barbeque together.

Village Club of Sands Point
The Village Club of Sands Point overlooks Long Island Sound. It features around 210 acres of outdoor space, and it's housed by the former Guggenheim Estate. Sporting options include an acclaimed golf course designed by Tom Doak, a pool, and racquetball courts. This club has a reputation for being family-friendly, and the dining atmosphere is kid-friendly, too.
Since the property is home to an elegant Gold Coast mansion, you can reserve rooms overnight for a truly unforgettable experience. The property features gorgeous views of Hempstead Harbor, so just being there and taking in the scenery will help you relax and recharge.
Want to own a home in or near Port Washington? Give Michael Furino a call today!