It may be cold right now, but spring is on its way; or perhaps you're reading this and it's already warm! As the warmer months approach, now is the time to begin thinking about all the fun options available to you and your children on Long Island. You don't have to go far to enjoy family friendly activities. Read on for a list of the top 5 things to do with your children on Long Island throughout the spring and summer of 2023. If you don't live on Long Island yet, let's take a look at some of the reasons why it's the perfect place to raise a family!
Convenient Location
Long Island NY is conveniently located near many of the most recognizable sites in the country. The Statue of Liberty, Times Square, Brooklyn Bridge, and Central Park are places that any family in America would be aware of. But living on Long Island, your children have the opportunity to grow up under the shadow of some of the most visited tourist attractions in the world. You don't need to plan an entire week's vacation, hotel rooms, flights, meals, and packing in order to show your child the wonders of New York City, you can just go for the afternoon and be back in time to catch the sunset from your own backyard! Take advantage of the local sites this summer as you plan children's activities around Long Island.

Long Island Spring & Summer Weather
The weather during the spring and summer on Long Island, New York is somewhat mild. Spring and summer tend to feature humid days, with temperatures ranging from the mid-50s to the mid-80s. Nights often cool down to around 60°F. Rainfall is more common during spring than in summer, but thunderstorms can occur throughout both seasons. Sunny days are plentiful, often making for beautiful days whether you're headed to the beach, pool, boat or a day on the golf course.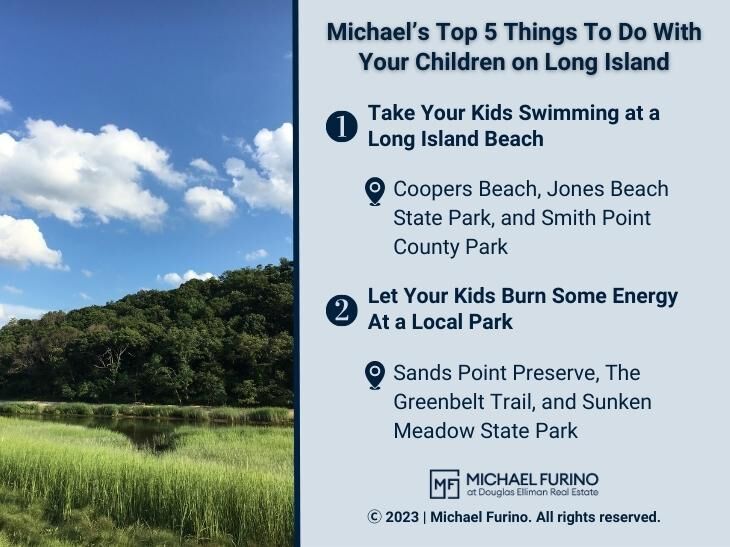 Michael's Top 5 Things to do with Your Kids on Long Island This Spring & Summer
I am looking forward to the upcoming spring and summer here on Long Island. Here are a few family activities I recommend for you and your kids!
Take Your Kids Swimming At A Long Island Beach

Beaches abound on Long Island (it is an island after all). With warm sun, soft sandy beaches, and gentle surf, the beaches of Long Island are a welcome reprieve from the crowded cityscapes. Coopers Beach, Jones Beach State Park, and Smith Point County Park are favorites. If you want something local on the North Shore, a morning or afternoon trip to North Hempstead Beach Park in Port Washington or Tappen Beach in Sea Cliff are also great choices. Before visiting, check to see if the beach you are considering has seasonal fees or limited lifeguard services. The sea breeze tends to keep the air fairly cool, which can often make for comfortable beach visits.

Let Your Kids Burn Some Energy At A Local Park

In addition to beaches, Long Island also boasts several beautiful parks. Sands Point Preserve in Port Washington, The Greenbelt Trail and Sunken Meadow State Park are popular places for hiking and birdwatching. Long Island has an extensive state park system, including many with beaches and historic landmarks. You and your children can enjoy time outside, running off some energy, and soaking up the sunshine. Don't forget to roll up your socks to avoid those pesky ticks.

Plan an Educational Outing At A Historic Long Island Museum

Everyone needs a few educational activities to break up the fun of summer break! Long Island museums have something for everyone. Many kids enjoy climbing Long Island's historic lighthouses and getting a view of the ocean. History buffs will enjoy homes such as Theodore Roosevelt's summer home, Sagamore Hill National Historic Site in Oyster Bay, the Vanderbilt Museum and Planetarium, and Old Westbury Estate and Gardens.
Long Island is also home to several aviation museums including the famous Cradle of Aviation Museum and the American Airpower Museum at Republic Airport. Learn about the history of aviation and the unique role that Long Island played in that saga. Check out planes from World War II and see how pilots throughout the decades have fought to protect our country.

Ride, Play and Splash at an Amusement Park

Spring 2023 is a great time to visit an amusement park. As parks begin to open for the season, the weather isn't too hot yet and the crowds tend to be smaller. At Bayville Adventure Park, you and your kids can enjoy a classic amusement park experience, from bumper boats to mini golf and, of course, ice cream cones!
Adventureland is consistently ranked as the top favorite amusement park for Long Island families. It offers rides, arcades, games, shops, and restaurants for all ages, as well as free admission and parking. What's not to love!
If rustic adventure is more your style, check out The Adventure Park at Long Island. This park has a playground for the youngest children and multiple zip lines, bridges, and trails for the young and young at heart (kids must be 7 years old to participate). Explore the forest from the trees at The Adventure Park!

Visit The Animals In Captivity Or The Wild

Long Island is home to many animals, native or not. The Center for Science Teaching and Learning, Holtsville Ecology Site, and Jungle Bob's Reptile World are just a few of the spots you can visit to learn more about the animals, reptiles, and amphibians of our world. Long Island Aquarium is also a popular destination for families and children. If you want to explore outside of Long Island, head to the Bronx Zoo centrally located right off the Bronx River Parkway.
Don't forget about all the birdwatching and fishing opportunities available at Long Island's beautiful state parks! Many Long Island inhabitants take conservation very seriously. Even though the island is densely populated, local efforts have preserved some gorgeous natural habitats.
Plan Long Island Spring and Summer Family Activities Today!
With warm weather quickly approaching, take some time now to plan this summer's activities. Long Island is the perfect spot to make memories that will last them a lifetime. If you and your family haven't moved to Long Island yet, contact Michael Furino Real Estate today. I can help make your moving process seamless, so you can get settled in and enjoy a Long Island spring and summer with your kids!