Looking to move to Port Washington on Long Island, Nassau County?
If you're considering a move to Port Washington, New York, you probably have some questions in mind. How do I get around in Port Washington, and what do the locals like to do for fun? What is the area like, and where am I going to shop, live and eat if I move there? As an experienced Long Island realtor, I know my way around all of Long Island, and that includes Port Washington. I've put together a comprehensive guide to living in Port Washington. When it comes to a big decision like moving, knowledge is power. If you're thinking of living in Port Washington, this guide will give you a great idea of what to expect!
Where Is Port Washington, New York?
Port Washington, New York is located on the northern shore of Long Island, on the Cow Neck Peninsula. Port Washington is its own designated place, but it also belongs to the town of North Hempstead, which belongs to Long Island's Nassau County. It's about a 30 minute drive from Port Washington to New York City.
Commute to and From Port Washington
Port Washington is a pretty easy-to-navigate town, with lots of different types of stores in close proximity to each other. This makes commuting within Port Washington itself pretty easy.
To get to Port Washington from elsewhere in Long Island or New York City, you have a variety of options. Whether you're driving or taking public or private transit, commuting to Port Washington does not have to be stressful.
Driving to Port Washington
To drive to Port Washington from the Long Island Expressway, take Exit 36 for Searingtown Road and Shelter Rock Road. If you're coming from the Northern State Parkway, you can take Exit 28 off the Northern State Parkway. This parkway is about 28 miles long and goes from the Queens-Nassau County Line to State Routes 347 and 454.
Taking the LIRR (Long Island Rail Road) To Port Washington
Another convenient way to access Port Washington is by train. The Long Island Rail Road is a major transportation method on Long Island–in fact, it runs around 735 trains every day, and it's the most-used commuter train in all of North America. This train schedule will help you figure out where to be and when!
It's about a 40-minute train ride from Port Washington to Manhattan. Many residents enjoy living in Port Washington but working in Manhattan, so they can have the best of both worlds–living in a town but working in a big city.
Taking the Bus to Port Washington
Port Washington is also highly accessible by bus. When you ride a bus instead of driving, you may cut down on your own transportation costs. You also help others in your community by reducing congestion, traffic times, and pollution. Bus fare is around $2.75, so this is certainly an attractive option.
Taxi Services in Port Washington
A taxi is a great way to get around Port Washington if you're in a hurry. Especially if you aren't familiar with the area, taking a taxi can keep your commute stress-free. The good news is that there are many taxi services to choose from here! Here are just a few of your options.
Delux Transportation Service

Delux maintains a clean, late-model fleet of vehicles, and their chauffeurs are known for being professional and friendly.
Address: 62 Main St, Port Washington, NY 11050
Phone: (516) 883-1900

Port Washington Taxi

Port Washington Taxi offers competitive pricing and a variety of car services. If you need a limousine for a party, wedding or special event, they can pick you up!
Address: 66 Main St, Port Washington, NY 11050
Phone: (516) 883-5500

Madison Taxi

Madison Taxi Service offers senior citizen discounts, multilingual drivers, and delivery and pickup options for your convenience.
Address: 8 Davis Ave, Port Washington, NY 11050
Phone: (516) 883-3800

H&M Taxi

H&M Taxi offers luxury service whether you are traveling a long or short distance. They have a reputation for being courteous, on time and always available.
Address: 4 Haven Ave, Port Washington, NY 11050
Phone: (516) 399-2700
Exploring Port Washington
Once you've made it to Port Washington by car, bus, train, plane or taxi, it's time to explore! Port Washington is a great town to visit for a day, but it's also a great town to live in permanently–and that's a difficult balance to strike. As a small waterfront hamlet, this town offers a place to get away from the crowds of New York City–while still being just a few minutes from the busiest parts of downtown!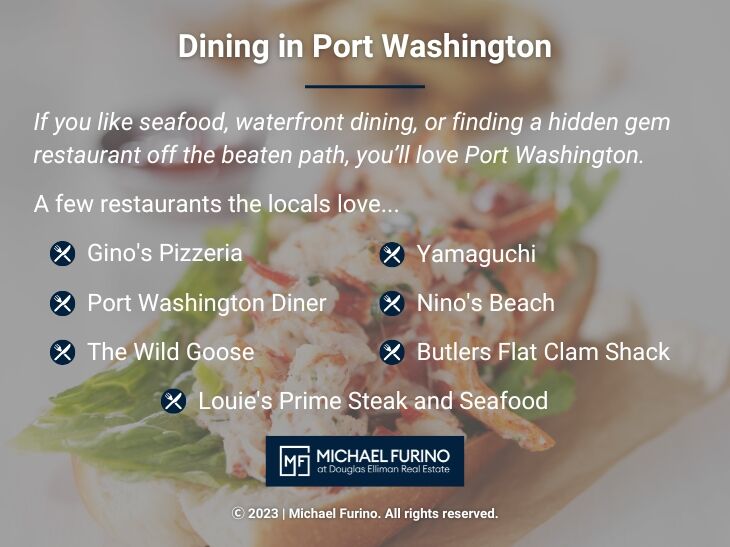 Dining in Port Washington
If you like seafood, waterfront dining, or finding a hidden gem restaurant off the beaten path, you'll love Port Washington. You can experience all kinds of restaurant environments here. But due to the coastal environment, al fresco dining is especially popular. Here are a few restaurants the locals love!
Gino's Pizzeria

Gino's is right in the center of Port Washington, and they offer both lunch and dinner specials so you can enjoy pizza anytime! Gino's is known for Italian comfort food, large portion sizes, and indoor/outdoor dining. They're always crowded, and that's a good sign!

Port Washington Diner

The Port Washington Diner offers a traditional diner experience with something for everyone and every time of day. For breakfast, you can enjoy omelets, pancakes and pastries. For lunch, there are burgers, sandwiches and salads to choose from. At dinnertime, you can choose from a long list of appetizers. There's also homestyle entrees, steak specialties, seafood, and pasta platters. For even more variety, you can enjoy the ice cream fountain, order a healthy smoothie, or visit the coffee bar.

The Wild Goose

The Wild Goose is a great place to have family dinner, but their takeout, delivery, and catering services are also fantastic. You'll want to make reservations for this one! The menu is globally inspired and features many seafood options. If you like lobster pasta, duck, tuna burgers or calamari, don't miss the Wild Goose.

Yamaguchi

Yamaguchi is Port Washington's favorite Japanese restaurant, and they've been in business since 1988. Call ahead for reservations and get ready to enjoy authentic Japanese cuisine with fresh ingredients. This is an excellent place to enjoy sushi, noodle dishes, seafood and meat entrees, and a variety of hot sake options.

Louie's Prime Steak & Seafood

For a taste of Long Island history, check out Louie's Prime Steak & Seafood. This restaurant has been in business since 1905! It's a great place to enjoy private events or plan a special dinner. The dinner menu is especially focused on steak and seafood, and Louie's is also famous for a Power Lunch, which comes with a starter plus an entree. The weekend brunch menu features plenty of seafood-themed appetizers and entrees, and the cocktail menu features a wide variety of signature recipes.

Nino's Beach

At Nino's Beach, you can enjoy waterfront dining and Mediterranean-style cuisine. The dinner menu features pasta, a raw bar, plenty of pizza and appetizer options, and surf and turf cuisine. Nino's is also a fantastic place to go for brunch–you can even enjoy the raw bar, pizza and pasta for breakfast, if you want! Don't miss their Italian desserts like Tiramisu and gelato.

Butler's Flat Clam Shack

Butler's Flat Clam Shack is open seasonally, but it's worth the wait! Located on Manhasset Bay, it was named for a nearby lighthouse. If you want fresh seafood, Butler's is the place to be. You can enjoy clam chowders and stews, sandwiches, seafood platters, salads, and even ice cream treats!
Notable Mentions
Our list wouldn't be complete without these notable mentions! For fresh, creative Italian cuisine, check out La Piccola Liguria Restaurant. If you want an unforgettable steakhouse experience, try Bryant & Cooper: Roslyn NY. Do you like Asian fusion cuisine in a sophisticated environment? You'll love Toku: Manhasset. And if you want authentic Greek cuisine, visit Kyma: Roslyn.

Shopping in Port Washington, NY
Port Washington may be a small hamlet, but the shopping opportunities are limitless! You can find everyday essentials and familiar brands, and you can also enjoy one-of-a-kind boutiques with local flavor.
Main Street, Port Washington
Main Street is a great place to start your shopping excursion, especially if you like to browse unique goods and shops. There are a ton of stores to choose from, including specialty gift shops, jewelry stores, galleries, and more. While you're there, check out Arena Sports–it's where all the local kids go for public school sports team uniforms and sports gear.
Soundview Marketplace, Port Washington
If you need to hit some familiar shopping turf, head over to Soundview Marketplace. There's a movie theater, a Target, a T.J. Maxx, and a Walgreens where you can grab all the essentials. At the West Marine Store, you can get all the gear you need to enjoy boating in Port Washington or the surrounding area!

Best Ice Cream Shops in Port Washington
Port Washington is a popular destination for fishing, boating, and spending time on the beach soaking up the sun. That means it's also a fantastic place to enjoy an ice cream cone. Here are a few of the best ice cream shops in the town!
Douglas and James

At Douglas and James, you'll find homemade ice cream that's as fresh as it gets. This shop is only open in the summer, so don't miss it during warm weather.

Baskin-Robbins

This familiar favorite is popular for a reason. It's not only a great place for ice cream cones and sundaes–you can also order specialty cakes and pies for any event.

16 Handles

16 Handles offers artisan frozen yogurt in familiar and exotic flavor options. If you're hosting a party or need catering, this is the perfect pick for a memorable occasion.

Carvel

Carvel is another familiar favorite where you can know what to expect when you order. Their ice cream is soft-serve style, and they're well-loved for their famous crunchy ice cream cakes, too!

Best Hotels in and Near Port Washington, NY
If you're visiting Port Washington, you've got a wide variety of hotels to choose from. Whether you need business accommodations or a memorable setting for a special getaway, Port Washington has plenty of options.
Fathoms Hotel & Marina
Fathoms Hotel & Marina is centrally located, so you can easily access the shopping and dining Port Washington has to offer. They're also conveniently close to the Belmont Park Race Track, the Nassau Veterans Memorial Coliseum, and LaGuardia Airport. Many of the rooms offer a sea view for you to enjoy during your stay!
Hilton Garden Inn Roslyn
The Hilton Garden Inn offers an easy booking process and a 24-hour front desk and business center. It's located next to a golf course and is a popular destination for business trips and golf trips alike.
The Roslyn, Tapestry Collection by Hilton AKA The Roslyn Hotel
This luxury hotel is located in the historic district of Roslyn, near Port Washington. It offers a central location, recreation opportunities, its own restaurant and bar, a ballroom, and a lobby fireplace. It's also a popular destination for weddings!

Entertainment in Port Washington NY
There's plenty to do for fun in Port Washington, no matter what your interests are! If you love sports, art, and culture, or just relaxing with a good film, you can find the perfect venue here.
Manhasset Cinemas
Manhasset Cinemas is located in Manhasset, just a few minutes' drive from Port Washington. This theater offers print at home tickets and plenty of accommodations for moviegoers with special needs.
Jeanne Rimsky Theater: Performing Arts Center
The Jeanne Rimsky Theater: Performing Arts Center is located on Main Street in Port Washington. Housed in a historic building, it offers an intimate theatergoing experience. Popular performances include dance, music, and plays.
Port Washington Library
The Port Washington Public Library is a great place to find books, but it also offers many other helpful tools! There's an ongoing art exhibition, and programs for adults, teens and kids. You can use library resources to learn a language, get help with your taxes, learn a new craft, and more.
List of Preserves in Port Washington NY
Port Washington is a seaside hamlet that's known for its natural beauty. The town has several designated preserves to ensure everyone can enjoy its unique offerings for generations to come. Preserves are natural and/or historic sites that are carefully maintained for residents' and visitors' benefit.
Sands Point Preserve is located on the historic Guggenheim Estate, built during the extravagant Gold Coast era in the early twentieth century. It houses a lavish mansion that's maintained for tours and available for private events, including weddings. The preserve also features many special programs for adults and kids, and plenty of walking paths and trails located in a 216-acre park.
Guggenheim Preserve
The Guggenheim Preserve in Port Washington is a paradise for nature lovers, boasting 17 acres of lush woodland. The preserve is home to hundreds of trees, a wide variety of wild birds, an abundance of butterflies, wildflowers, and even bats. It is an integral part of the Port Washington ecosystem, providing an important habitat for many species of wildlife. The preserve is a great place to explore and appreciate the beauty of nature, providing a peaceful oasis in the midst of the bustling city.
Leeds Pond Preserve
Leeds Pond Preserve is a beautiful, hilly natural area that borders Manhasset Bay. It's home to a historic mansion that houses a science museum, dedicated to helping children learn about the natural world.
List of Public Parks in Port Washington, NY
Port Washington, NY locals enjoy spending time outdoors, away from the noise of New York City. Port Washington is densely populated, but there are still many opportunities to find peace in nature, thanks to the town's many well-maintained parks. Here are a few of them!
Manorhaven Beach Park and Pool
Manorhaven Beach Park and Pool is a great place to spend time in the sun with people you love. There's a pool with water slides, a large bathhouse with event spaces, and athletic fields for a variety of sports including basketball, skateboarding and lacrosse. This park is also a great place to enjoy kayaking, fishing and other water sports.
North Hempstead Beach Park
Located on West Shore Road, this park features a nice stretch of sandy beach that's perfect for strolling along the shoreline. It's a popular destination for picnics and events, and locals also enjoy the jogging trails.
Merriman Park
Merriman Park is located on Fenimore Road. It features an athletic field and a playground, and it's open from sunrise to sunset.
Blumenfeld Family Park
This is the perfect park for a leisurely stroll, thanks to its beautiful gardens. Kids enjoy playing on the water spray pads in hot weather, and the playground is a great place to burn off some energy.
Sunset Park
Like its name suggests, this is a great place to sit and watch the evening sunset over the water. From here, you can enjoy great views of the Statue of Liberty, or you can simply sit for a while and watch boats go past.
Bay Walk Park
Bay Walk Park features an outdoor museum to explore, as well as a gazebo and picnic tables. You can dock your boat here while you walk around and browse the museum!

List of Dog Parks in Port Washington NY
Port Washington is a great place to own a dog, especially if you like waterfront walks! If you're looking for a dog park where you and your pet can make friends, the town has several great options.
Manorhaven Preserve
Manorhaven Preserve has a short nature trail that you can share with your dog. Dogs must be licensed and current on vaccinations. The park features shade, benches, and waste receptacles for your convenience.
Merriman Park
Merriman Park has spaces for both dogs and kids to play. The playground here is popular, so make sure your dog is comfortable around children before planning a visit!
Baxter Bond Park
This park sponsors educational programs where you can learn more about the environment and how to protect it. It's a great place to bring your dog and enjoy some natural beauty!
Stannards Brook County Park
With no entrance fee, Stannards Brook County Park is an affordable way to enjoy some peace and quiet in nature with your dog. It offers a short woodland trail with a calm, babbling brook.

List of Country Clubs/Golf Courses in Port Washington, NY
Port Washington offers many stunning views of the water, and its coastal climate means there are refreshing sea breezes, even in hot weather. It's no wonder this town is home to many country clubs and golf courses! Here are a few of the town's favorites for you to explore.
Sands Point Golf Club
Sands Point Golf Club is privately owned, and it's widely appreciated for its challenging course designed by architect A.W. Tillinghast. This is a club that caters to true golf enthusiasts who enjoy strategic play.
Village Club of Sands Point
Village Club of Sands Point is conveniently located near Port Washington, and it's found on Long Island's historically famous Gold Coast. This club is noted for being family-friendly and welcoming to all guests. It's home to a luxurious mansion with rooms that can be rented for special occasions.
Harbor Links Golf Course
Harbor Links Golf Course offers plenty of options, including 18-hole and 9-hole courses plus a minigolf experience. Its scenic grounds are perfect for hosting weddings, parties, banquets, and more.
North Hempstead Country Club
The golf course at North Hempstead Country Club is known for being well-maintained and scenic. This club has plenty to offer golf lovers, but it's also a great place for the whole family to enjoy. There are programs for kids, fine dining, and plenty of event spaces.
Plandome Country Club
Plandome Country Club can trace its earliest beginnings to around 100 years ago. Today it's the perfect place to enjoy golf, tennis, and fine and casual dining.

Yacht Clubs and Marinas in Port Washington, NY
Port Washington NY is right on the waterfront, so naturally it's home to some of the best yacht clubs and marinas around. A yacht club is a great way to make social connections and eliminate some of the hassle of owning a boat. Check out these favorite yacht clubs and marinas you'll find in and near Port Washington!
Port Washington Yacht Club
The Port Washington Yacht Club is more than just a place for boating. You can host private parties, dine on the waterfront, or enroll kids in special programs to learn more about boating. The tennis courts and pools are also great opportunities for family fun.
North Shore Yacht Club
The North Shore Yacht Club can trace its roots to 1871. Whether you enjoy cruising, racing, or watching boats go by while you relax on the waterfront, you can do it at the North Shore Yacht Club. The social calendar has plenty of special events where you can get to know other members.
Manhasset Bay Yacht Club
The Manhasset Bay Yacht Club offers plenty of sophisticated space for special events. There are plenty of comfortable rooms for socializing, and an inn with rooms for members. Kids can enjoy a wide variety of junior activities in a family-friendly environment.
Safe Harbor Capri Marina
Safe Harbor Capri Marina boasts plenty of experienced staff to help you with all things related to boating. This is a great place to store your boat, and it's also a popular destination for waterfront dining and social events.
Freedom Boat Club
Freedom Boat Club offers a sheltered harbor for safe boat storage. This incredibly large boat club offers plenty of amenities, like unlimited training, a diverse fleet to choose from, and boat cleaning, maintenance and storage services.
Toms Point Marina
Toms Point Marina offers summer and winter storage as well as expert repairs. It's conveniently located near many of the other attractions Port Washington has to offer. It's also near Manhattan, with an easy commute!
MICA Marina
MICA Marina is conveniently located in Manorhaven. It's known as an especially great place to enjoy an evening sunset on your boat or the waterfront.
Carefree Boat Club of Port Washington
Carefree Boat Club of Port Washington lets you choose from a wide variety of boats, so you can experience Manhasset Bay in different ways. You can enjoy fishing, skiing, pontoon boating, and more!
Colony Marina
Colony Marina offers public access to its docks and storage facilities. You can also buy fuel and supplies, get maintenance and repairs, and even take classes here.

Port Washington, NY Neighborhoods and Villages
Baxter Estates
Manorhaven
Flower Hill
Sands Point
Harbor Acres
Port Washington North
Salem
New Salem
Highfield Estates
Port Washington may be relatively small, but it has a variety of different neighborhoods. If you're considering a move to Port Washington, it's worthwhile to explore what each neighborhood has to offer!
Baxter Estates
Baxter Estates is a village in the greater Port Washington area. It was incorporated in 1931 and is part of the Port Washington Union Free School District. Sightseeing opportunities include the Execution Rocks Lighthouse and Execution Rocks Island. You can also enjoy boating, fishing, and admiring the skyline on the Little Neck Bay.
Manorhaven
Manorhaven is an incorporated village with its own village code, justice court, and more. It also belongs to the Port Washington Union Free School District. It's served by the Nassau Inter-County Express Bus Route, and major roads are Manhasset Avenue, Manorhaven Boulevard, and Shore Road, also called Sands Point Road.
Flower Hill
Flower Hill is partly located in Port Washington. The eastern side of this village is considered part of the Roslyn area. The village of Flower Hill is recognized as a Tree City USA by the Arbor Day Foundation. Children attend public school in either the Manhasset Union Free School District, the Port Washington Union Free School District, or the Roslyn Union Free School District. There's also a private school in Flower Hill, called the Vincent Smith School.
Sands Point
Sands Point is located on the coast, at the tip of the Cow Neck Peninsula, and was incorporated in 1910. All of the village is residentially zoned, and the village maintains its own police force. Public school students attend the Port Washington Union Free School District.
Harbor Acres
There's a part of Port Washington, within Sands Point, known as Harbor Acres. This neighborhood is nearby to a beach, playground and tennis courts. Harbor Acres Road runs east from Sandy Hollow Road towards the coast.
Port Washington North
Port Washington North can trace its roots to one of the oldest settlements on Long Island. It's home to the Bay Walk Park Project, dedicated to offering recreational space on the waterfront.
Salem
Salem is a Port Washington neighborhood located between 101 on the east and Harbor Links Golf Course on the west. To the north is Port Washington Park, and to the south is New Salem.
New Salem
New Salem is a Port Washington neighborhood to the south of Salem. Here you'll find a wide variety of architectural styles and home sizes.
Highfield Estates
Highfield Estates is a neighborhood conveniently located to many of Port Washington's attractions. It's also easy to commute from Highfield Estates using the LIRR. This neighborhood is located on the east side of Port Washington, north of Salem.
Port Washington Schools
Port Washington, New York is home to a variety of educational institutions, ranging from public schools to private universities. The Port Washington Union Free School District is the primary provider of public education in the area, offering primary and secondary education to students in grades K-12. For those seeking higher education, there are several nearby colleges and universities, including New York Institute of Technology, Adelphi University, and St. John's University. With a wide range of educational options to choose from, Port Washington offers a wealth of opportunities for students of all ages. View a list of these schools below.
Public Schools in Port Washington

Elementary

Guggenheim Elementary School: K-5
South Salem Elementary School: K-5
John Phillip Sousa Elementary School: K-5
John J. Daly Elementary School: K-5

Middle School
High School

Paul D. Schreiber Senior High School: 9-12
Address: 101 Campus Dr, Port Washington, NY 11050

Private Schools in Port Washington

St. Peter of Alcantara School: PK-8, 162 Students
Vincent Smith School

Notable Mentions for Schools on Long Island:

Friends Academy
Portledge School
North Shore Hebrew Academy High School
Chaminade High School
St. Mary's College Preparatory High School
Kellenberg Memorial High School
In summary, I hope this guide has been informative for those interested in living in or moving to Port Washington. There is a lot to explore in this wonderful city, and I (Michael Furino) am here to help you with your real estate needs. Whether you are looking for the perfect place to call home or the best opportunity to invest in real estate, I am available to assist you. Please do not hesitate to contact me if you have any questions or would like to discuss your real estate needs.